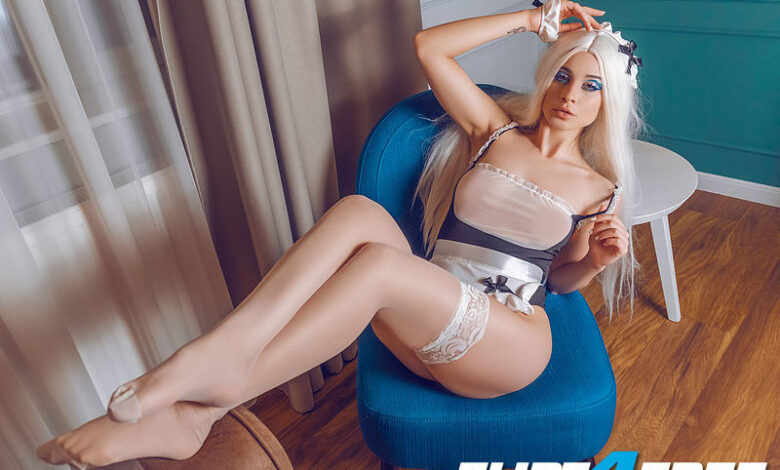 High QUality Super Cam Models
Mobile Phone COmpatibility
Flirt4free has it all. Free public chat shows, Cheap group shows, private shows, and voyeur mode. All this with insanely sexy-looking supermodels like we have never seen before and With one of the best experiences on desktop and mobile phones. With a perfectly functioning cam 2 cam function, even on mobile phones. And with a free account, you even get 120 free credits to spend on any camgirl. So no reason to not give it a try!
One of the First Webcam Sex sites
Flirt4free is a dinosaur on the timeline of live adult entertainments to opened its digital doors way back in 1996. It has had many ups and downs but now it is one of the best cam sites the internet has ever seen, and it's free to use. Numerous features are accessible without even needing to register. But if you register for a basic account, which is free, the fun really starts. Let's see what makes flirt4free so amazing.
Flirting for free with webcam girls
Flirt4free was the first site to make the camgirl's webcam chat accessible for free. No free explicit shows like those we see today on free cam sites like chaturbate.But in those days it was extremely unique that you could simply chat with the camgirls and they might tease and show what they have to offer. This made it easier to decide if you wanted a private chat with that particular girl. Since then things have changed and now you also have the same public chats like those on chaturbate available where you can watch for free. More on that later
Many online live models and other content
When you enter flirt4free, you will be bombarded with an incredible number of online chat rooms with each live model even more gorgeous and stunning than the other. More than 700 online models at the time of this review! With that number of available models you need a good search machine and model selection menu, luckily flirt4free has that. In the left-hand menu, you can select webcam models on pretty much any criteria you can think of. From physical features like breast and ass size, height, hair color, skinny or fat, ethnicity. To character traits like shy, outgoing, dirty. You can also select their specialties, Like BDSM, squirting, feet fetish double penetration, etc., and much more.
If that isn't enough to keep you busy, Flirt4free also has plenty of other content like private pictures and videos from your favorite webcam model to watch. Even looking at the webcam model profiles can get you off because these are some really high-quality glamour babes. Not only babes you can also find Men and transgenders on the site. It really is a huge site. And They did an amazing job keeping the site easy to navigate despite the sheer amount of content on offer
Stunningly Sexy Supermodels
Access a performer's profile by clicking on her thumbnail and 9 times out of 10 you will see a profile with a shitload of high-quality professionally shot photos and video footage. These girls all look like supermodels, and we have always said that LiveJasmin is the webcam sex site with the best-looking cam girls, but after seeing the girls at flirt4free we might have to reconsider that statement. It's insane and something you have to see with your own eyes.
On the webcam model profiles, you will also find written introductions about the cam models' personalities, hobbies, and that kind of stuff. And you will see a link to their social networks, so if you want to connect with a girl on Twitter, Facebook or Instagram that's also a possibility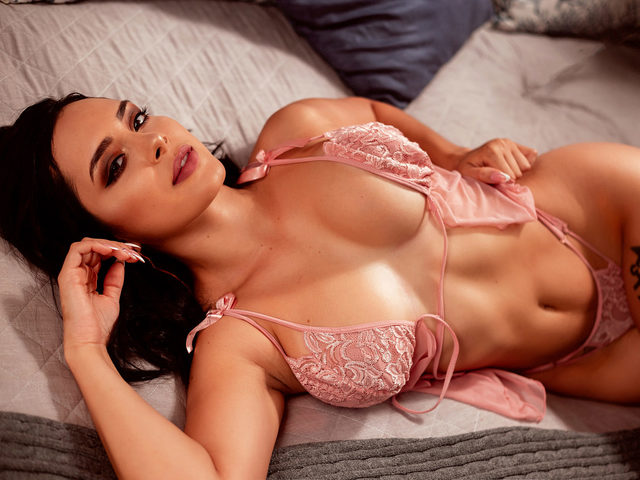 Free Registration with a 120 credits gift
Like said you can have a lot of fun at flirt4free without even registering, but the amount of time you can chat and the number of photos you can watch are limited. It's wise to simply register for a basic account which only takes a minute and is 100% free.
And even better with a free account, you will get 120 free credits to spend on whatever you want. Either donating during a public show, buying a premium video, or on a private live chat with one of those insanely hot supermodels. The choice is up to you.
Flirt4free VIP Account
Besides the basic free account Flirt4free.com offers a premium VIP membership with a monthly cost of $39.95, this gives you 150 bonus credits. And as a VIP member, you get full access to all premium content like videos and photos that basic members don't have. Your typed text in a chatroom will be in gold so the girls immediately recognize you as a VIP and you will often get more attention because of it. You also get bonus benefits such as reserving up to 10 new usernames and the ability to send cam models emails with attachments. There's an option to chat with other VIP users and cam models in special VIP forums and watch private videos before you buy them. And there's more, you can even watch regularly given 1-hour long feature cam sex shows for free!
DIfferent Live Webcam Show Types
There are different types of webcam sex show to be found at flirt4free. These are the main ones:
Public webcam chat
This is the most basic form of webcam chat on Flirt4free.com. It is free for everyone to watch, but it can be hard to find nude shows here. Most cam models save the really naughty sessions for group or private shows.
But if you look hard enough, you can certainly find some. Although these sessions do not require money, you are encouraged to send credits as gifts. You can also make requests after you tip! Want a girl to spread her legs over and start rubbing her clit? Donating some credits can work wonders.
Group shows
Webcam model can set a total tip amount as a goal to start a group chat show. These cam rooms are extremely explicit and usually on another level as the fee public chats. You can read upfront what the theme of the show will be. So for example double penetration show will start once 1000credits have been gifted. If the viewers watching her donate enough credits to reach that goal, she will start the group chat.
Everyone who hasn't donated will be locked from watching the show, and only those who have contributed to the goal will be able to continue watching. This means fewer viewers and more attention for the people who are left. In case the tipping goal is not reached, you will get your credits back.
Private cam chat
These are the most intimate chat shows. Instead of sharing the stream with a whole audience, it's only you and the model in the chat. It's simply the best webcam sex experience to have and you can even bond with a girl. Of course, private chats are also the most expensive. Costs of the private shows vary because the cam models set their own prices. Flirt4free used to be an extremely expensive site when it came to private shows back in the days. But with all the new competition they had to adjust and they are now averagely priced. There are cheaper options. if you are looking for the cheapest private cams then check out the 49 cents private shows at camcontacts But none of the cheap sites offer the quality that flirt4free offers. Again the choice is up to you, And remember with a free account you get 120 free credits to try it out.
Voyeur cam chat
Your favorite model is already in a private session? Sometimes they have the voyeur option enabled, which means that for a low price you can have a peek in the private session. But you won't be able to chat or interact with the model. This only works if voyeur mode is enabled. Remember this when you want a private chat. Check to see if the voyeur model is disabled if you don't want people saying on your girl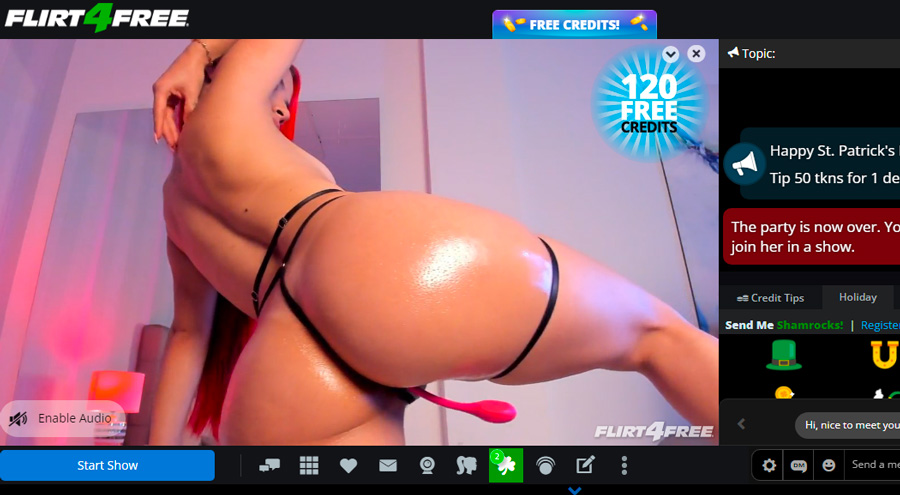 Cam 2 Cam sex chat on your mobile
Flirt for Free has a website that is perfectly optimized for use on mobile phones. Navigation works with easy swipe movement and like with the desktop version they did an amazing job making that huge mount of content easily navigatable.
You even have the possibility to turn on your own camera so the girl webcam model can also see you if that's what you want. We have seen cam 2 cam before on mobile phones at other webcam sex sites. But rarely has it been implemented as flawlessly as at flirt for free. remember that it is optional. If you don't want the webcam model to see you that's fine. But some people like to be watched when they masturbate so this function is great for them.
One of the best webcam sex sites ever
Flirt4free has it all. Free public chat shows for those who don't like paying. Cheap group shows for those who don't want to pay much but who do like a bit more intimacy and interaction with a webcam model. And the private shows for those who want total control and intimacy,
All this with insanely sexy-looking supermodels. With one of the best experiences on desktop and mobile phones. With a perfectly functioning cam 2 cam function even on mobile phones. And tons of amazing content freely accessible with a 100% free account.
And best of all with a free account you even get 120 free credits to spend on any webcam sex show