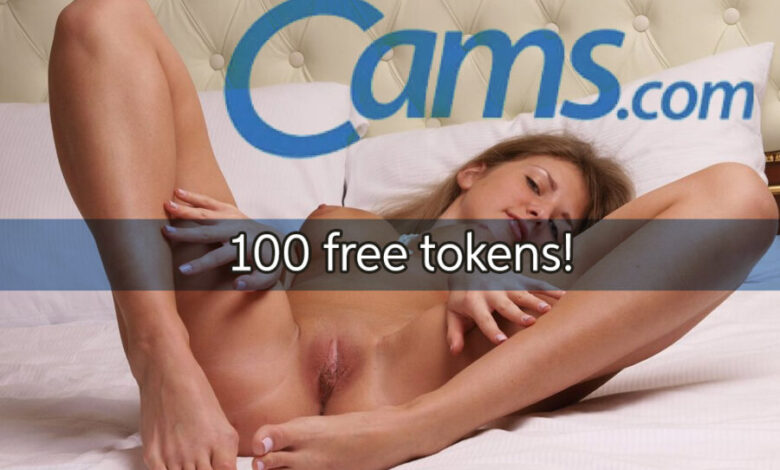 Cams.com has been a major player in the live online sex cam industry pretty much since the beginning. In those early days, the big webcam sex sites were cams.com, LiveJasmin, and flirt4free. It's not a surprise that after all these years these sites have a huge customer base with incredible amounts of online webcam models. And their sites have been sculpted and updated to perfection to give the best possible live adult entertainment experience possible.
But of course, each of these sites has implemented its own unique innovations and features. So how does cams.com compare to the big players in the year 2022, And what about the newcomers? Is Cams.com still amongst the best choices? let's find out.
Free registration
Registration at cams.com is free you only need an email address and create a username and a password. You can directly log in after registering. I do have to point out a weird issue when I tried registering. The automatic Recaptcha verification that checks if you are really a human kept failing. And since this is the newest version of Recaptcha where you don't need to enter a code or click some pictures there was no way around it, I had to contact support to get my account activated. This probably won't happen to most visitors but it's worth noticing.
100 Free Tokens
If you are a first-time visitor at cams.com and you are creating a free account for the first time you will receive 100 free tokens to spend on any type of live show with any webcam model you like. To receive the free tokens you just create your free account as mentioned above and after clicking on the link in the verification mail you will get the 100 tokens deposited in your account immediately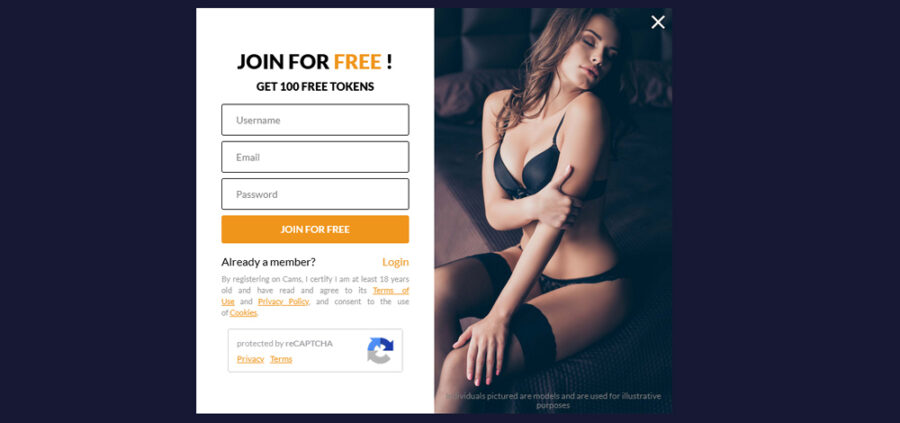 Types Of Live Shows
There are many different types of live shows at cams.com, enough to compete with whatever any other webcam sex site has to offer the different types of cam sex shows are:
Free Chat: free chat is the most basic of chats you can enter a webcam model's live video chat for free you can see her or him and send and receive chat messages. There will also be other viewers in the chat, chatting with the webcam model and each other
Tipping Chat: Tipping chat are webcam shows that you can also enter for free. Anything can happen in a tipping chat. As the name already gives away in a tipping chat the webcam models can receive tips, in the form of tokens from the viewers. The more tips a webcam model receives the crazier and sexier the sex show will get. If you want to leave a tip you will need to buy tokens. Or you can just keep watching for free as long as the other viewers leave tips you can enjoy the show without spending anything
Nude Chat: If you don't like the crowded chatboxes from the free chats and the tipping chats and you would like to have a bit more interaction with the camgirls and cam boys then nude chat is a great option. Nude chats are live sex shows but you will have to pay a very small amount to enter the show. This helpsto weed out all the people who do not want to pay. resulting in less viewers in the chatbox which gives you more change of having some sexy interaction with the model. There are still other viewers in the chat, but a lot less than in the previously mentioned types of live sex cam shows.
Party Chat: Party chat is even more intimate than nude chat, a party chat you will pay with tokens per minute, it is possible that you are alone with the webcam model in this chat and have him or her all to yourself. But others are able to join in on the sexy fun, they will of course also need to pay the per minute rate. Because multiple people can join the fun the amount tokens yo will need to pay per minute is a lot less than in a real private chat, which we will discuss next.
Private Chat: Private chat is an intimate one-on-one session with only you and the webcam model in the chat, this is the perfect way to connect with a webcam model, chat and live out all your dirty fantasies without anyone else interrupting
Voyeur View: Voyeur view is for those who get a kick out of spying on models. In voyeur view you can see what awebcam model is doing in a private chat. Don't worry voyeurs can only see what the webcam model is doing. So if you are in private chat you don't have to worry that a voyeur is spying on you.
Cam2Cam: Cam2Cam is the ultimate intimate webcam sex experience. Similar as the private chat you are alone with the webcam model in the chat. But you also turn on your own cam so while you watch the webcam model she can also watch you. It is the highest and most erotic form of live adult interactive entertainment. And the best way to reach orgasm together with a webcam model and create a bond.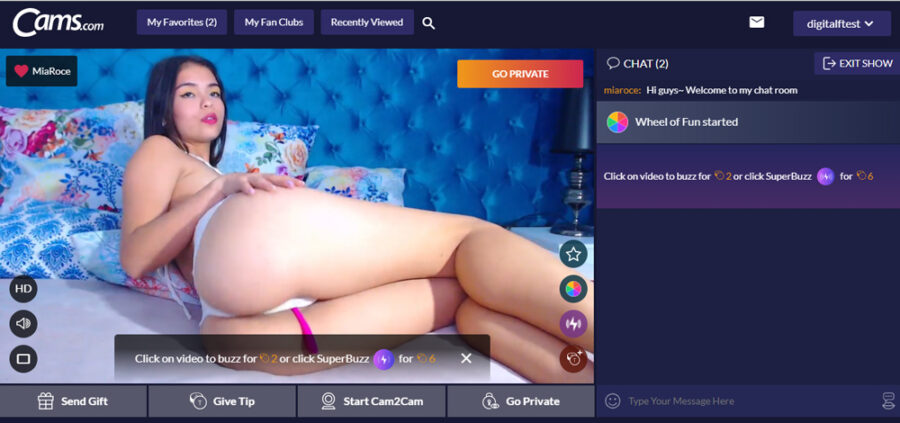 Better than Livejasmin?
as you might already know and as you can see on our best Livejasmin alternative camsite list we like to compare webcam sex sites with livejasmin because it is one of the most complete and awsome webcam sex site that has been setting standards of quality and innovation in the cam sex scene since pretty much the beginning of webcam sex. And honestly, cams.com most definitely is a worthy alternative. It is so close that in the end its a matter of personal taste and on which site you connect with the webcam models more. In terms of quality they are equal. In my opinion Livejasmin has even hotter webcam models than the cammodels at cams.com And The fact that livejasmin offer other payment methods besides credit card makes Livejasmin the better all-round site for me.
But if you are looking purely for free shows and have a credit card in case that yo want a private. Then I think cams.com is the better choice. Because there's more fun to be had for free at cams.com in my humble opinion that is.
Buying tokens
By now you know that you can have endless live sex fun at cams.com without spending a single cent! but with some tokens you can take the live shows to the next level and have real private intimate sexual contacts. Unfortunately tokens can only be bought with credit card. If there's something I don't like about cams.com it's that. In 2022 there should by more payment methods available to users who want to buy credits. So if you are looking for private shows and you do not have credit card. Have a look at the following link with all the payment methods for webcam sex and which cam sites accept them.
If you hca no problem buying tokens with a creditcard, or if you just want to enjoy all the free webcam sex shows cams.com has to over then it's one of the best webcam sex sites you will ever visit.